News & Events Page
News & Events Page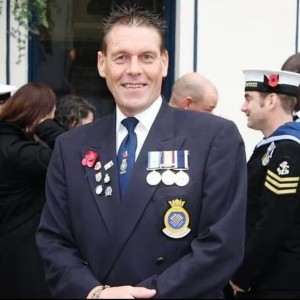 BLUE REEF JOINS HERO PIRATE
CRAIG'S CHARITY CREW
Portsmouth's Blue Reef Aquarium will be overrun with pirates this weekend as part of a very special fundraising event (Saturday, April 16th – Sunday, April 17th).
Staff at the Southsea attraction will be donning pirate fancy dress and raising money for Macmillan Cancer Research to show their support for navy veteran Craig Bryden, who has terminal cancer. As part of the event any children arriving in full pirate fancy dress over the weekend will also get in for free
Craig, who lives in Copnor, caused a sensation on the internet after a photo of him attending his first chemotherapy session in full pirate dress was posted on Facebook by a fellow bus passenger.
Originally from Kilmarnock in Scotland, the 56-year-old plasterer and decorator spent 20 years in the navy, and survived the sinking of HMS Sheffield in the Falklands.
"From a young age I was always interested in Pirates. I think it's something that young boys enjoy learning about. Then when I moved to Portsmouth in 1977 my interest for them increased," he said.
"I discovered I had lung cancer when I went for a routine check at the doctors. It was a shock but I wanted to try and make the process as fun and easy as possible.
"It was then I asked my doctor if I could turn up to my first chemotherapy session dressed as a pirate. He looked at me strangely and he didn't really understand why.
"My wife and daughter were there with me at the time and they just laughed and said 'he loves pirates'.
"When I wore the costume for the first time all of the nurses were smiling and other patients were too, which made wearing it worthwhile," he added.
Staff at the aquarium decided to get involved when they heard about Craig's story.
"Craig's attitude is simply inspirational and really helps put everything else in to perspective," said Blue Reef's Hannah Butt, who is helping to organise the event.
"We are so pleased to be able to show our support for such a courageous person and we we're looking forward to collecting lots of donations.
"Over the weekend we will be raising money through face painting, guess the chocolate coins in the jar and selling food to feed our stingrays.
"Visitors will also be able to donate by guessing the name of one of the sharks and we will have general charity raising buckets placed around the aquarium," she added.
Craig, who is married and has two children, is planning to attend the fundraising event in person – dressed as a pirate.
"I am so grateful for what the aquarium is doing in raising money for Macmillan Cancer Research and I think it is a brilliant idea.
"Everyone has been so supportive since my diagnosis and it just shows how much of a strong community we have here in Portsmouth," he added.
BLUE REEF INVITES VISITORS
TO CATCH FISH ON FILM
Portsmouth's Blue Reef Aquarium is inviting visitors to catch their fish on film as part of a special photographic workshop this weekend (Saturday, February 6th – Sunday, February 7th)
The Southsea attraction has enlisted the help of an award-winning photographer to provide expert advice and tips to capture the perfect animal images.
Portsmouth-based Johnny Black has been taking photographs for more than 30 years and has won both acclaim and awards for his striking images.
As part of the event he will offer advice and provide practical demonstrations on how to take successful pictures of animals in motion.
Blue Reef's Hannah Butt said: "One of the most common questions we get from our visitors is how to try and take good, clear pictures in what can be a very challenging environment.
"I have seen first-hand dozens of blurry, out of focus and dark images which were taken in aquariums and so I think Johnny's photographic master classes will prove extremely popular.
"Hopefully visitors who do take part in the workshops will then go on to post some of their best images on our Facebook page so everyone will be able to admire them," she added.
As well as looking at overall composition and what type of camera to use, the workshop will also offer specific advice on how to take the best photographs of moving animals, animals in water, behind glass and without a flash.
Johnny Black's Photography Workshop will take place from 11am-3pm on Saturday, February 6th and Sunday, February 7th.
From the hidden world of UK waters, Blue Reef, Portsmouth transports visitors to the spectacular 'underwater gardens' of the Mediterranean and the stunning beauty of tropical waters – home to everything from seahorses and puffer fish to living corals and tropical sharks.
At the aquarium's heart is a giant tropical ocean tank where an underwater walkthrough tunnel offers incredibly close encounters with a huge range of exotic coral reef species.
More than 40 naturally-themed displays reveal the sheer variety of life in the deep from native sharks and rays to the cute otters and colourful reptiles and amphibians!
VISITORS INVITED TO TAKE A GANDER
AT RARE GOOSE BARNACLES
A rare colony of bizarre ocean voyagers is set to go on display at Portsmouth's Blue Reef Aquarium after being found attached to a sunken ship's wheel.
Dozens of goose barnacles were brought into the aquarium by dog walker Terry Carnell, 40, from Southsea after parts of the shipwreck were washed ashore on Southsea beach.
Normally only found in warmer waters, goose barnacles, which can measure up to 10 inches in length, spend their lives attached to floating flotsam and jetsam using long feathery appendages to net passing food.
During stormy weather at sea this flotsam is occasionally blown inshore with its exotic passengers still firmly attached.
Blue Reef's Hannah Butt said: "Terry was out walking his dog when he came across sections of the shipwrecked boat and they were covered in the barnacles.
"Although they look like giant molluscs, goose barnacles are actually related to crabs and lobsters.
"Because they normally live in warm water environments we were concerned they may be dead. On arrival however many of them were found to be alive and we immediately placed them in a heated tank to warm them up.
"We're currently feeding them on a diet of live artemia which they're wolfing down.
"They arrived firmly attached to the ship' wheel which we've placed into the display with them to allow them to behave as they would in the open ocean," he added.
Goose barnacles get their name from the fact that, in medieval times, people believed the barnacles were not animals in their own right but the eggs laid by geese.
This bizarre belief also enabled the country's mainly Catholic population, to eat goose meat on Fridays as it was clearly a member of the fish family!

AQUARIUM LAUNCHES 12 DAYS
OF FISH-MAS COMPETITION
Portsmouth's Blue Reef Aquarium has come up with its own unique version of the 12 Days of Christmas with a dozen prizes on offer to visitors.
'The 12 Days of Fish-mas' which launches this week features a series of marine-related prizes which will be won in the run up to Christmas.
Among the prizes are shark-themed goody bags, annual family memberships to the aquarium and the chance to become a fishkeeper for the day.
Blue Reef's Hannah Butt said: "Christmas is a time of giving so we thought we would come up with a fishy-themed set of prizes which people could win.
"All our visitors can enter the competition via reception and we will also be offering people the chance to win online via social media.
"Gifts on offer range from a fish and chip supper for two to the chance to spend the day as part of our team of aquarists here at Blue Reef helping to look after and feed our residents including otters, tropical sharks, stingrays, piranhas and poison dart frogs," she added.
It may be winter outside but at the Blue Reef Aquarium in Portsmouth you're guaranteed a very warm welcome – whatever the weather.
Now's a great time to visit the aquarium and escape the grey weather.  Spectacular tropical displays will transport you to another world and help you forget all about the winter chills!
With its naturally-themed tropical displays and underwater walk-through tunnel the aquarium is an oasis of light and colour even on the darkest days.
Surrounded by the crystal clear waters of a bustling coral reef it's easy to forget the winter blues and imagine yourself basking in the sunshine of another perfect tropical day.
And what better way to relax and unwind than to watch graceful black tip sharks glide effortlessly by or hundreds of brightly coloured reef fish go about their daily lives!
·       Anyone looking for a unique Christmas gift for marine-mad family and friends can purchase annual passes and 'Fishkeeper for the Day' experiences online at www.bluereefaquarium.co.uk/portsmouth .
BABY SKATE PROVES TO BE
PRICKLY CUSTOMER
Keepers at Portsmouth's Blue Reef Aquarium are treating their newest arrival with extreme care.
Although it only measures a few centimetres across the baby thornback skate, which hatched out earlier this month, certainly lives up to its name as its upper side is covered with tiny prickles. Skate are superficially very similar to rays but there are some fundamental differences, the main one being that skate are egg layers and rays give birth to live young.
The baby skate is currently being looked after in its own nursery display and aquarists at the Southsea attraction are hoping more eggs will begin to hatch out in the coming weeks.
"Despite being one of the most widespread of our native ray & skate species, thornbacks are increasingly under threat in the wild," said Blue Reef's Hannah Butt.
"The baby is an exact miniature replica of its parents and looks extremely cute in its new display.
"Once fully mature we're hoping this skate and its unhatched cousins will also breed, providing a new generation of captive bred skate here at the aquarium," she added.
Thornback skate lay up to 150 egg cases a year. The empty egg cases are a common sight washed up on the shore and are known as mermaid's purses.
Thornbacks are the most common skate or ray in British waters and can grow up to 1.2 metres in length. The species gets its name from the coarse prickles which cover their upper body.
Despite being the UK's commonest type of skate, it is still considered to be 'Near Threatened' in the wild which means it may be threatened with extinction in the near future.
Rays and skate belong to the same family as sharks and are effectively 'flattened-out' versions of their close cousins. UK waters are home to at least 15 different species including the electric ray and the common skate, which can reach lengths of up to three metres.
TALKING SHARKS AT PORTSMOUTH'S
BLUE REEF AQUARIUM
Visitors to Portsmouth's Blue Reef Aquarium will be able to find out all about the amazing world of sharks and why they need our help to survive
From Friday, August 7th to Monday, August 10th, the Southsea attraction will be playing host to new UK-based shark conservation charity Fin Fighters.
The organization is on a mission to protect sharks worldwide and end the sale and distribution of shark fin in the UK by 2023.
As well as daily talks on shark conservation and why it's so vital to protect the oceans' ultimate predators there will also be a series of fun events and activities taking place aimed at visitors of all ages.
Free sharky activities in the aquarium's school room for children throughout the day include colouring, word searches and "Become a Fin-Friend" where you write your name on a little shark and thread him onto the 'shark chain' to show your support for healthy, happy shark populations.
There will also be a shark-based quiz, drawing competition, "pin-the-fin", digging for sharks' teeth, feeding the rays, bidding on feeding the sharks and guess the name of the shark with prizes on offer in return for donations.
Everyone who takes part will be awarded with a shark sticker!
Blue Reef's Hannah Butt said: "This event is all about raising awareness of sharks and trying to change people's perceptions of these magnificent fish.
"Despite their terrifying reputation, sharks are actually far more at risk from us than we are from them with literally millions being killed needlessly worldwide each year," she added.
In addition to aiming to end the sale of shark fin products in the UK by 2023, Fin Fighters also want to raise awareness of the need for more transparency in the use of shark meat in restaurants
They also want to celebrate the many successful campaigns and the ongoing conservation work for the protection of sharks and marine life.