Upcoming Events
Upcoming Events
Happy Fishmas: 22nd Dec – 6th Jan
It's beginning to look a lot like Fishmas… Come and join us this winter season to celebrate all things merry and magical in the underwater world. Come and meet our cute and quirky residents and discover a stocking-full of festive fun! Have yourself a merry little Fishmas with our exciting talks, feeds and workshops – and even jingle all the way through our Merry Quizmas trail!
Predators Week: 16th – 24th Feb
From Stingrays and Sharks, to Moray Eels and Piranhas – the aquatic world is divided into the hunters and the hunted. Discover the amazing techniques that different species have evolved to catch their prey and the tactics that prey use to stay hidden! Predators Weekend lets you come face to face with Blue Reefs fiercest creatures, and be ambushed by those that may look sweet but have sneaky strategies.
The Big Blue: 6th – 22nd Apr
Ever wondered what goes on in The Big Blue? Dive on in with Blue Reef Aquarium Portsmouth this Easter and discover a world of underwater wonder! From our baby rays to our retired axolotls, there is an undersea adventure just waiting to be explored. Come along and debunk myths in our Fact or Fishtion quiz, and learn all about life within the deep in our Nautical Nippers Trail and Rockpool Encounters! Journey through our displays and immerse yourself in the world of aquatic life; from lifecycles and breeding, to the work we do here – there's a whole Big Blue adventure waiting for you this Easter at Blue Reef Aquarium Portsmouth!
SOS: Save Our Seas: 4th – 6th May
By 2050, there may be more plastic in the ocean than fish. The time to save our seas is now, and we need your help. Blue Reef Aquarium Portsmouth invites you all to join us this Bank Holiday weekend for SOS: Save Our Seas, where you can learn all about what is going on within our oceans, and what we can do to help the aquatic life and its habitat. Working alongside Plastic Free Portsmouth and Final Straw Solent, dive into our underwater world and lend a hand to making a step towards cleaner seas, stronger life, and a better future.
Claws Week: 25th May – 2nd Jun
Join in the fun at Blue Reef Aquarium for Claws Week! From comical Hermit Crabs to fiery Shrimp, Claws Week offers fascinating insight into the incredible world of Crustaceans. Pinch a Crustacean Quiz and enter our prize draw, or Meet the Moults in our Crustacean Workshops and join in our Crab Encounters to discover all about these amazing armour-plated creatures!
Armed Forces Weekend 29th & 30th June
To thank you for your service, Blue Reef Aquarium Portsmouth is offering free admission to all services personnel. Join us for Armed Forces weekend with your services ID to gain free admission, and up to £12 off the admission price for your accompanying guests. We thank you for your service and hope to see you during Armed Forces Weekend!
Festival of Fishes: 24th July – 3rd Sep
Make a splash this summer and join Blue Reef Aquarium Portsmouth for our Festival of Fishes! Dive in to the crazy and colourful aquatic world, where you can learn all about fish families, marine mysterious and homely habitats! PLUS – each weekend has its own theme, so you can come along and discover an ocean full of fishy facts from the motion in the ocean to shark tales. Get hands on in our Rockpool Encounters, or come along for some Beach Club Fun and meet Charlie the Clownfish! With special guests, quizzes, competitions and more – Festival of Fishes is fun for the whole family this summer at Blue Reef Aquarium Portsmouth!
Weird and Wonderful: 26th Oct – 3rd Nov
Get stuck into some spooktacular fun with Weird and Wonderful at Blue Reef Aquarium Portsmouth! Back by popular demand, you have the chance to come face to face with some of our most grisly residents and discover the creepy underwater world. Be charmed and captivated by familiar faces, and debunk the myths about creatures that just have a bad reputation! Get your hands dirty with our slime workshops, and meet some Weird and Wonderful creatures in our Rockpool Encounters! For gruesome family fun, join us for Weird and Wonderful at Blue Reef Aquarium Portsmouth!
October 18, 2018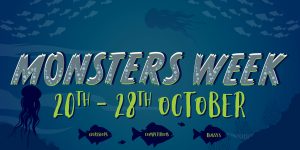 Daily Talks & Activities Come face to face with some of the fiercest underwater animals this October half term for MONSTERS WEEK! You'll learn all about the grisly residents of our oceans and debunk myths about those that just have a bad reputation. Get stuck into the fun with competitions, quizzes, workshops, and more! 11:00am […]
October 15, 2018
All around the world, the seas are filled with fascinating creatures of every colour, shape, and size, and you can find them everywhere from shallow waters all the way to the Mariana Trench. With such a diverse range of marine creatures, it's no surprise that there's some creepy crawlies and truly spine-tingling predators lurking in […]
October 10, 2018
Half term is just around the corner, so it's time to get ready to have fun with the family! This half term we're bringing you MONSTERS WEEK! You'll have the chance to come face-to-fin with some of the ocean's fiercest residents. Halloween & Monsters Week 20/10/2018 – 28/10/2018 It's Halloween season! But it's not just […]
October 3, 2018
Summer may be over, but, that doesn't mean the fun stops there! The coming Autumn months in Portsmouth are jam-packed with entertainment, culture, and good old Pompey tradition. Whether you're pumpkin-carving or sparkler-twirling, there's something for everyone to get involved in over the next few months. Take a look at what you could be up […]
September 24, 2018
You've walked miles in the rain, the traffic is stand-still, and all you have to make the day better is a plain cheese sandwich and a Capri Sun. But, at least the kids are having fun, right? Whether you're just going on a day-trip to a site down the road, or you're going further afield […]