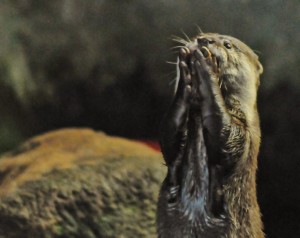 To coincide with the Rio Olympics, Portsmouth's Blue Reef Aquarium is launching a month-long celebration of some of the aquatic world's record breakers.
From sharp-shooting archer fish and diving otters to long-jumping frogs and weight-lifting lobsters there's a whole host of highly impressive underwater record-breakers featured.
Visitors to the aquarium will be able to find out about the biggest, fastest, slowest, rarest, loudest and most deadly animals in the aquatic world.
Other record-breaking feats include the deepest dive, the oldest fish and the loudest animal sound ever recorded in the ocean.
Blue Reef's Hannah Butt said: "The marine world is home to some truly impressive record holders, many of which could hold their own against any human athlete.
"We thought it was about time that they got some recognition and the Aquatic Olympics is our way of paying tribute to them," she added.
As well as athletic achievement, the record-breakers also include information about the creature with the largest eye in the animal kingdom,
 Blue Reef Aquarium, Clarence Esplanade, Southsea, Portsmouth. Open Daily from 10am. For more information call 02392 875222, visit www.bluereefaquarium.co.uk/portsmouth or find us on Facebook.
Issued by Blue Reef Aquarium. For more information please contact Hannah Butt on 02392 875 222.