Following 103 days of closure, on Saturday Blue Reef Aquarium opened its doors to welcome visitors once again and is pleased to report its re-opening went swimmingly!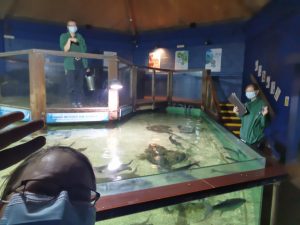 Staff at Blue Reef Aquarium ready to safely welcome visitors!
After opening quietly the Southsea Beach attraction is ready to shout from the tank tops to welcome visitors to see the hundreds of aquatic creatures that call Blue Reef Aquarium their home.
Jenna MacFarlane, General Manager at Blue Reef Aquarium commented: "We are so excited to welcome visitors back to Blue Reef Aquarium Portsmouth. We have been working hard to ensure everything is safe for our visitors, staff and animals and are keen to share our beautiful displays with the public once again."
From local residents and young families to annual members and fish enthusiasts the site welcomes everyone safely. Visitors will observe enhanced cleaning, regular hand sanitising stations, increased signage and a one way journey through the aquarium. While the aquarium has reduced its capacity so visitors can observe social distancing it is not practising pre-booked ticketing and has welcomed a manageable stream of visitors thus far.
For full details about our safety measures please click here.

Foyer at Blue Reef Aquarium with safety measures in place
Robert Davidson, Displays Supervisor at Blue Reef Aquarium said: "The fish have missed having people to watch, the most inquisitive fish of the aquarium are Peanut and Pinky our Giant Gourami – we haven't been able to do anything without them swimming straight over to the glass to watch! Undoubtedly they'll be enjoying having visitors to watch once again."
To celebrate the successful weekend, the aquarium is running a ticket giveaway on it's social media this week – take a look and enter at www.facebook.com/bluereefports/.
Blue Reef Aquarium Portsmouth is open to the public 10am-4pm with last entry at 3pm 5 days per week, closed Tuesdays and Wednesdays. Tickets can be purchased online in advance at a discounted rate or simply purchased on arrival.