Portsmouth's Blue Reef Aquarium is launching a brand new film-inspired fishy trail for the summer holidays.
The 'Did You Forget Tour' is a fun and informative trail for forgetful fish which highlights the real-life tales of the fishy characters featured in the new animated Disney Pixar film 'Finding Dory'.
Visitors will be able to find out more about all the major characters from the movie which are based on real fish species including clownfish, cleaner shrimps, puffer fish, butterflyfish, seahorses, sharks and, of course, regal tangs like Dory.
As well as the trail there will be a daily programme of talks, workshops and other activities based on the fishy stars with information on conservation projects to help protect species in the wild and things we can all do to help protect and preserve the marine environment.
There will be various film-inspired craft activities on offer and every child can choose between a 'Team Dory' or 'Team Tang' sticker on arrival.
Blue Reef has also teamed up with Cineworld Chichester to mark the official launch of the new film. Aquarists will be taking their rockpool roadshow along to the cinema complex on Saturday mornings throughout the school holidays.
Anyone who presents their cinema ticket from seeing 'Finding Dory' at Cineworld Chichester at the aquarium will receive a free child entry with a full paying adults and adults who show their aquarium ticket at the cinema will get a discount.
• The 'Did You Forget Tour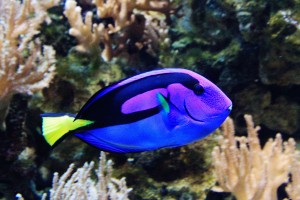 ' is free to visitors and takes place Monday-Friday throughout the holidays and on the fweekends of July 30th-31st and Sept 3rd-4th. For details visit
www.bluereefaquarium.co.uk/portsmouth
, call 02392 875222 or find us on Facebook.
Issued by Blue Reef Aquarium. For more information contact Hannah Butt on 02392 875222.